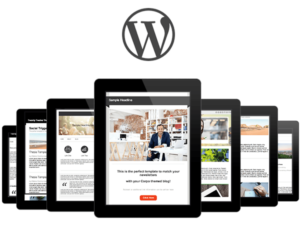 Installing WordPress is like framing a house in construction.  But it's just a skeleton without muscle or skin.  All the fundamental systems are there, held together by a very basic layout, sample pages, & placeholder text.  The actual Content ultimately comes from you, the style options and layout come from a Theme, and customizing the theme to your specifications and preferences come from me.
WordPress has 3 or 4 default themes that come with the installation, which is always free anyway.  They are serviceable, but nothing like the Premium Themes available by 3rd parties, which are priced around $60.  As they are updated later on, as a Premium Theme, you benefit from these updates with no additional licensing fee.
The best of these 3rd parties, in my opinion, is Themeforest, part of the Envato group of creative resources, which also includes stock video and photography, animation, code, & tutorials.  Take a look at these Themeforest samples.  They will inspire you to envision a website you never thought you could afford, but is well within the reach of anyone with a dream.
Themeforest Premium Themes
Photodune Stock Photography